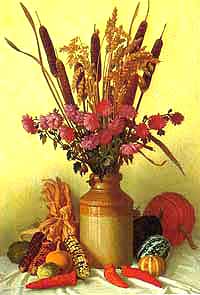 ROASTED TURKEY
1 fresh about 10 pounds turkey, or frozen turkey that has been thawed.

Salt and freshly ground black pepper

Vegetable Stuffing
This kind of stuffing will add loads of flavor to your turkey and keep your normal stuffing to cook in a separate container where it will be a lot safer.
1 lemon
1/2 apple
1/2 medium onion
10 sprigs fresh thyme
4 branches fresh rosemary
2 branches fresh sage
10 sprigs Italian parsley
4 bay leaves
1/4 cup vegetable oil

Turkey Stock
trimmings from the turkey
1/2 medium onion
2 stalks celery
1 carrot
2 bay leaves
10 black peppercorns
5 Italian parsley stems

Flour Paste
6 tablespoons unsalted butter
1/4 cup all-purpose flour

4 tablespoons all-purpose flour

For Basting
8 tablespoons unsalted butter 1 teaspoon water

Giblet Gravy
1 large leek, white part only, cut in 1/4-inch dice
3 cups turkey stock
giblets from turkey, finely diced
1 hard-boiled egg, finely diced
salt and freshly ground pepper


1. Prepare the turkey. Remove all extra parts; reserve giblets. Cut off wingtips and any excess neck, etc. Season turkey inside and out with kosher salt and freshly ground pepper; be generous. Loosen up leg joints without tearing skin.

2. Make the stuffing by roughly chopping the lemon , apple, onion, thyme, rosemary, sage, parsley and bay leaves into 1/2-inch pieces. Mix with oil. Put stuffing into cavity and truss the bird. Do not tie too tight.

3. Start the stock at least 30 minutes before roasting the turkey. Place the wingtips and neck in a saucepan; add 6 cups of water. Bring to a boil. Skim off any foam. Reduce heat to a slow simmer. Add onion, celery, carrot, bay leaves, peppercorns and parsley stems. Allow to simmer about 2 1/2 hours. Strain stock and reserve. You should have about 3 cups.

4. Make a paste by kneading 6 tablespoons unsalted butter with 1/4 cup flour. Rub this vigorously and thoroughly into the skin of the bird.

5. Preheat the oven to 450 degrees. Sprinkle 4 tablespoons flour evenly on the bottom of a roasting pan. Place turkey on a rack in the pan. Allow time for turkey to come to room temperature if it is still cold to the touch.

6. Place turkey in oven. Leave in oven for 40 minutes or until the bird is browned all over. Combine 8 tablespoons butter with 1 teaspoon of water and bring to a boil. Turn the oven down to 350 degrees and baste the turkey generously with the butter mixture. Repeat this process twice, once every 10 minutes, until basting liquid is used up. At this point, the turkey should be in the oven about 1 hour. Now baste 2 more times at intervals of 15 minutes, using pan drippings. At this point, the turkey has been in about 1 hour 30 minutes. Cook 20 minutes more without basting, to allow the skin to crisp. Remove from oven. Allow to rest at least 30 minutes before carving. Make the gravy during this resting period.

7. To make the gravy, remove turkey to a serving platter. Place roasting pan directly on top of a burner on medium heat. Cook for about 5 minutes, allowing excess liquid to evaporate. Stir constantly. Now carefully remove any excess fat that has not combined with the flour to make a roux. Add the diced leek and cook for 1 minute. Slowly add 3 cups turkey stock, allowing the gravy to thicken as it comes to a boil. At this point it may be switched to a saucepan. Make sure that every bit of the pan drippings has been incorporated into the gravy. Add the giblets and simmer for about 15 minutes. Stir in the hard-boiled egg and remove from heat. Season to taste with freshly ground pepper and salt, if necessary.

8. Carve the turkey and pass the gravy. Serve with country sausage and sage dressing and cranberry relish.

Serves about 10 as an entrée.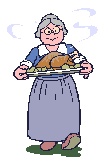 COUNTRY SAUSAGE AND
SAGE DRESSING



This recipe is intended as a baked dressing to accompany the Thanksgiving turkey. It can be used as stuffing (a practice I do not recommend for turkey), if you desire. It also makes a good stuffing for capon or pork.


2 baguettes (long French bread), stale, cut into 1-inch cubes
1 tablespoon vegetable oil
1 pound Country Sausages, preferably homemade
1 large onion, cut in large (3/4 to 1 inch) dice (2 cups)
5 stalks celery, peeled, split lengthwise and cut in large (3/4 to 1 inch) dice
2 medium apples, peeled, cored and cut in large (3/4 to 1 inch) dice
15 sprigs Italian parsley, leaves picked and very coarsely chopped (1/4 cup)
6 to 8 branches fresh sage, leaves picked and coarsely chopped (1/4 cup)
4 eggs
2 cups turkey or chicken stock
1 teaspoon salt
1 teaspoon freshly ground black pepper
6 tablespoons unsalted butter

1. The bread should be completely stale. If not, spread the cubes on a baking sheet and put in a low oven (250 degrees) for about 1 hour to dry them out. (I think this light toasting gives the dressing a better flavor.)

2. Heat the vegetable oil in a large skillet. Add the sausage meat and brown it, breaking up meat into pieces about the size of a quarter. This need not be precise. Transfer meat from skillet to large bowl, using a slotted spoon. Add onion and celery to the skillet. After 1 minute, add the apples and cook 2 more minutes. Place in bowl with sausage.

3. Add bread cubes, parsley and sage to the bowl.

4. In a separate bowl, mix the eggs and stock with the salt and pepper. Pour this over the sausage mixture and gently toss all the ingredients. They should combine without mushing.

5. Generously butter a 16-inch baking pan (2 tablespoons). Spread the mixture in the pan and dot with more butter (4 tablespoons).

6. Preheat oven to 350 degrees and bake for 50 minutes to 1 hour. The top should have a nice golden brown crust.

Serves 10 to 12 as a side dish.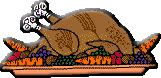 CRANBERRY RELISH

No Thanksgiving dinner would be complete without cranberry relish. It can be made in large batches if you want to make enough for the winter.
2 oranges
1 cup sugar
2 teaspoons lemon juice
2 teaspoons fresh ginger, cut in fine julienne
1 bag (12 ounces) fresh or frozen cranberries
1/2 teaspoon freshly ground white pepper

1. Peel 1 orange and cut the zest (orange part only) into a very fine julienne, as thin as possible; set aside. Squeeze both oranges for juice; set aside.

2. Combine sugar and lemon juice in a small sauté pan. Heat up slowly and continue cooking until the sugar begins to caramelize. If necessary, wash down the sides of the pan by brushing with a little water to keep the sugar from burning.

3. When the sugar is caramel colored, add the julienned ginger and orange zest. Cook for about 1 minute, then add the cranberries, orange juice and pepper. Continue to cook on medium-high heat, stirring frequently, for about 5 minutes or until the cranberries are slightly broken but not mushy (frozen cranberries will take about 7 minutes). Remove from the heat and let cool.

Makes 3 cups.

Pumpkin Pie


The ultimate, deliciously easy pumpkin pie
1 unbaked 9-inch deep dish pie shell (4-cup volume); refrigerated, frozen or homemade
2 eggs
1 can (16 ounces) Libby's Solid Pack Pumpkin
3/4 cup granulated sugar
1/2 teaspoon salt
1 teaspoon ground cinnamon
1/2 teaspoon ground ginger
1/4 teaspoon ground cloves
1 can (12 fluid ounces) undiluted Carnation Evaporated Milk

Prepare pie shell. Preheat oven to 425 degrees F. Beat eggs lightly in large bowl. Stir in remaining ingredients in order given. Pour into pie shell.*

Bake for 15 minutes at 425 degrees F. Reduce temperature to 350 degrees F.; bake for 40 to 50 minutes or until knife inserted near center comes out clean. Cool on wire rack.

* If using metal or foil pan, bake on preheated heavy-duty baking sheet.

Makes one 9-inch deep dish pie

For 2 shallow pies, substitute two 9-inch pie shells (2-cup volume). Bake in preheated 425 degree F. oven for 15 minutes. Reduce temperature to 350 degrees F; bake for 20 to 30 minutes or until pie tests done.

For lower fat/calorie pie, substitute Carnation Evaporated Low fat Milk.


Pumpkin Cheesecake


Crust
1/2 cup gingersnap crumbs

Filling
2 lbs cream cheese, softened
1 1/2 cups granulated sugar
1/3 cup all-purpose flour, sifted
1 1/2 tsp ground cinnamon
1 tsp grated nutmeg
1 tsp ground cloves
1/4 tsp allspice
1/8 tsp salt
6 eggs
2 cups pumpkin puree

Topping
1 cup heavy cream
1/2 cup chopped pecans

Sprinkle the gingersnap crumbs onto the bottom and sides of a well-buttered 9-inch springform pan. Chill until ready for filling.
In a large bowl, beat the cream cheese, sugar, flour, cinnamon, nutmeg, cloves, allspice, salt, and eggs until smooth. Add the pumpkin puree and continue to beat until very smooth. Pour the mixture into the chilled springform pan and bake in a preheated 325-degree oven for 1 1/2 hours. Turn off the oven and let the cake stand in the open oven for 30 minutes. Transfer to a wire rack and let cool completely.

Carefully remove the sides of the springform pan. In a chilled bowl, whip the heavy cream and spread it over the top of the cake. Sprinkle the chopped pecans on top of the whipped cream. Transfer the cake to a serving dish and serve.