Child brides marry in
Rajasthan, India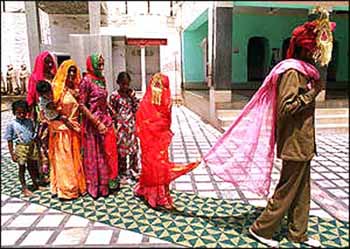 Mina, 8, with Sukhram, 22, right, and his family members, after their marriage
Around the world, in the name of RELIGION, many societies practice polygamy and many arrange the marriage of girls as young as 8 or 9 years old to men 20, 30 and even 40 years older than they are.
We live on the other side of the world, it is NOT our business, at least this is what we tell ourselves, but what about the children this is happening to right here in North America. Children that should be playing with dolls, going to proms, getting an education, but instead these children are being married off to old men, many of which already have many wives and children.
I BELIEVE ADULTS 18 YEARS AND OLDER HAVE THE RIGHT TO LIVE WITH AND HOWEVER THEY CHOOSE AS LONG AS IT DOES NOT TAKE AWAY THE RIGHTS OF OTHERS, INCLUDING THEIR CHILDREN!
WFF doesn't normally get involved in state politics, but a situation in Utah ought to be of national concern, and certainly qualifies as Outrage of Month. Girls as young as 14 are being married off to older men (and we don't mean twenty some things -- some are in their 50s), because state law allows parents to sign their daughters away to older men.
Whether it be a lack of education in a third world country, or the lust of men proclaiming religious conviction, the isolation within these polygamous societies enables this abuse to continue.
This is going on right this minute within many fundamentalist societies in the U.S. and Canada.
Yes, right in our wonderful democratic society, where we say we treasure family values, we go on with our daily lives, and ignore the slavery of young women, saying we respect their parents religious freedom to take away the rights of these innocents, marry them off to whoever they want in the name of God.
Mormons Rape Children With Near Impunity As Religious Freedom
Well I am calling on EVERY women, of every religious faith, to stand up and make your voice heard, write your Congressmen, or if you are in Canada your Member of Parliament.
To contact your Congressman or Senator this page gives you all the info
US Government addresses
Contact MEDIA
This site The Campaign is one of my favorite sites and causes, so while you are there using their links PLEASE take the time to join their newsletter, what they have to say may shock you. After reading their site you will look at what you feed your family through different eyes.
A Must see Video from Utah 98 News
There are three videos here, with loads of information.
For more videos on polygamy in the news click on the following link
Never doubt that a small group of thoughtful, committed citizens can change the world; indeed, it's the only thing that ever has.
~ Margaret Mead ~
Women helping those wishing to leave polygamy contact Tapestry
To DONATE
Please feel free to copy these two banners to your server and add them to your website, link them back to their respective pages and NOT back to me, even though I would not mind you giving me a link on your site.


If you still believe that the doctrine of polygamy is far removed from the LDS 'Mormon' Church of today, PLEASE take a look at the following video, when the page opens click on the movie camera
What do Mormon's Really believe