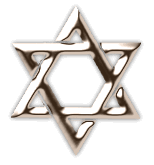 Chanukah Latkes
By the light of the Chanukah Menorah, young and old enjoy this crisp, holiday treat!
Ingredients:
5 large peeled potatoes
1 large onion
3 eggs
1/3 cup flour
1 tsp. Salt
1/4 tsp. pepper
3/4 cup oil for frying
Use: 10-inch skillet
Yields: 4 to 6 servings
Finely grate potatoes and onion with a hand held grater, or in a food processor; or put in a blender with a little water.
Strain grated potatoes and onion through a colander, pressing out excess water. Add eggs, flour, and seasoning. Mix well.

Heat 1/2 cup oil in skillet to medium hot, (it will sizzle if you drop in a tiny piece of potato) and place 1 large tablespoon batter at a time and fry on one side for approximately 5 minutes until golden brown. Turn over and fry on other side 2 to 3 minutes.
Remove from pan and place on paper towels to drain excess oil. Continue with remaining batter until used up, adding more oil when necessary.
Serve with applesauce on the side.
You can make variations of this recipe with either Zucchini or Carrot: Substitute 5 medium zucchini or 5 medium carrots for potatoes.