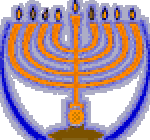 HOW TO CELEBRATE CHANUKAH
Kindle the Chanukah menorah on each of the eight nights of Chanukah.

Nightfall during Chanukah is at 5:30pm

Use olive oil or paraffin candles, large enough to burn until half an hour after nightfall, for the lights of the menorah.

Use a "shamesh" (service candle) to kindle the lights, and place it in its special place on the menorah.

For the blessings and number of lights and the order of kindling, see below.

Before kindling, recite the appropriate blessings, and after kindling recite, "We kindle these lights..."

All members of the family should be present at the kindling of the Chanukah lights. Have all young boys kindle their own Chanukah menorahs and all young girls light their own Shabbat candles.

Students and singles, who live in a dormitory or in their own apartments, should kindle menorahs in their own rooms.

The Chanukah lights are kindled either in the front window or by a doorway.

On Friday afternoon the Chanukah lights (which will burn until 1/2 hour after nightfall) are kindled BEFORE the Shabbat candles are lit.

NOTE: From the time the Shabbat candles are lit until Shabbat ends and the Havdalah (separation between Shabbat and weekday) prayer is recited, the Chanukah menorah should not be relit, moved or prepared. After Shabbat ends, the Chanukah lights for Saturday night are kindled.
Miracles For Today
The lights of the Chanukah menorah are more than simply a reminder of ancient miracles, they are meant to provide inspiration and illumination in our contemporary daily lives.
In fact, in a very real sense, the Chanukah miracles of old are re-enacted in our observance today. That is one reason why we say, in the second blessing recited over the Chanukah lights, "...Blessed are You... who wrought miracles for our ancestors, in those days, at this time."
By reflecting upon the significance of the Chanukah miracles, we can see, with ever-increasing clarity, the miraculous dimension of events in our own time.