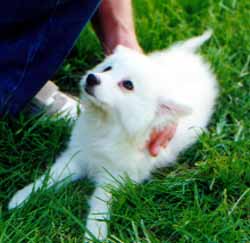 Wow, this is nice, you are so gentle, I like being an only child with a dad and two moms, what a lucky puppy I am.
Poo Poo, pee pee, what the poop are you talking about? When I come out here, I just want to roll over in the grass and smell the roses.
Slow down, all the words are confusing me. The only one I like is FOOD, and you sure do have a lot of that, I smell it all the time.
Close window to return