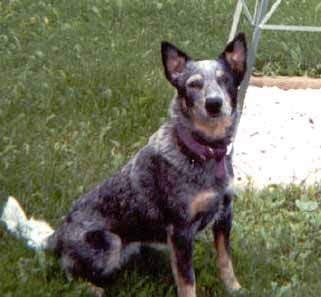 Hi, I am Mattie, an Australian Cattle dog, and I will be 5 years old on September 17. I live with my mom (Jen), dad and three feline friends.
Running is such fun, especially when there are squirrels to chase, and when there are non of them around I sometimes pretend that Zac, Marbles and Snubbles are squirrels. :=)
I came to live with my family when I was a year old, Nov. '97, mom says when I was young I was a handful, I chewed EVERYTHING I could get a hold of, but I am a good girl now.
Just wish I could get those cats to play with me more often, they always seem to be taking a nap.