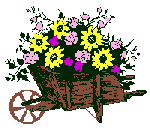 GARDENING WITHOUT HURTING YOUR BACK
TAKING IT SLOW AND CAREFUL PREVENTS PAIN
BY
ANNA MAY KINNEY
Most people don't look at a couple of hours of gardening as a workout, but that is exactly what it is. Once the sun come out, puddles dry up, every winter couch potato will be throwing themselves into cleaning up, tending the yard and garden. This sudden switch from inactivity could be a prescription for a summer spent suffering with back pain.
Doctors will tell you that by taking a few simple precautions the majority of back injuries can be avoided. Like other forms of exercise, gardeners should start slow, a few lower-back stretches before you begin will help your muscles get ready for those unavoidable lifts, sudden lurches and almost constant bending.
When you have a long list of work to do, try dividing it up, a few minutes weeding then switch to transplanting or raking. By changing tasks you will be changing the muscles you are using, staying in the same position too long is asking for trouble.
If there is a job that you MUST finish before going on, try a fifteen minute break, a walk around the garden assessing with paper in hand will help you organize the next jobs that need doing, while limbering the muscles that have stiffened.
When there is something you have to lift, make sure you follow the proper positioning. Many people think that lifting something small and lightweight could not harm you, this is not true. It can be the way you reach and lift and NOT the weight of the item being lifted that causes the damage.
Memorize this checklist before you start lifting;
1 Place you feet where your toes touch the item you plan on lifting. Now spread your feet about a foot apart.
2. Before lifting, squat down so that you can grab the item nearer its bottom, this will also help you get a better hold.
3. As you come up, keep your back straight, using you leg muscles to lift you and the item.
4. Wait until you are completely straight before attempting to turn, avoid twisting your back. Rotate your body by moving your feet.
If the item you are lifting is large and needs to be carried a distance, placing a strap around the item that goes over your shoulders and around your back will help balance and distribute the weight more evenly.
Follow the same procedure when it is time to set the item down. While keeping your back straight, gentle lower yourself into the squatting position.
The simple task of weeding can have its effect on the back. If you are going to kneel, take along a cushion and try keeping your back as straight as possible, avoid placing your body weight on your heels.
I prefer having something low to sit on, a small, heavy-duty pail turned upside down, or a plastic crate make a quick seat. I spend 10 minutes weeding straight in front of me, then turn my position, weed ten minutes to my right, turn again weeding ten minutes to my left. Doing this you never feel that you have overworked one area; by the time you are finished your entire body is overworked.
This is where the wonderful raised bed garden is a life savor. You may not realize what a difference it makes having your vegetables 6 to 12 inches higher than the place you walk. Being able to sit in a chair while weeding or picking your harvest can truly save your back.
People that already have back problems don't have to give up gardening, but it is wise to avoid lifting and decrease the amount of time you spend doing a job. With the size garden I have, it is a necessity to mulch as much as possible; this is a great way to cut down on the amount of weeding you need to do.
By planting perennials close, there is less room for weeds to invade, you can also grow a few low maintenance bushes.
*************************************************************************
PREVENTING LYME DISEASE
So you think that because you live in Quebec, where there have been few cases of Lyme disease, that you are safe. Think again. Most people do not spend their summer vacations in their back yard, and many of us will be traveling south for a few days of sun and relaxation.
If you plan to travel anywhere in the Northeast, Pacific Northwest or Midwest, that's anywhere with a large deer population, be aware that Lyme disease is a major threat in these areas.
Lyme disease is an infectious disease that is spread to human through the common deer tick. This illness has quickly become the second fastest growing infectious disease in the United States.
The greatest period of tick infestation happens right when the human population heads out for adventure with nature, May, June and July. In high-risk areas, tall, thick grass and wooded areas should be avoided. If you must venture into these areas try to follow some of these safety tips;
1. Dress in light colored clothes, white if possible. This will make it easier to spot a tick on your clothing.
2. Use either a strong organic bug repellent (sold in health food stores) or a repellent that contains DEET on your clothing. If using the DEET, use sparingly and with great caution, especially around children, this is a poisonous chemical.
3. Wear long sleeved shirts and long pants that are tucked into your boots. (Boots offer better protection than shoes).
4. After an outing, make sure to check EVERY spot on your small children's body and if you do find a tick, do not try to remove it. Pulling it out with tweezers cause the tick's sack to release its poison into your or your child's bloodstream. Get out the Vaseline and cover the tick with a thick coat, after a few minutes it will back out on it's own. Place it in a jar and head for the doctors office. It will have to be tested to see if it was infected with Lyme disease.
The End.
************************************************************************

Flower & Garden
Magazine Description
Each issue of Flower & Garden provides readers with down-to-earth guidance for growing everything from apples to zucchini and asters to zinnias, plus tips on planting and caring for trees, shrubs and lawns, and landscape design. It also offers guidance on selecting and maintaining lawn and garden tools and equipment and much, much more.
E - The Environmental Magazine
Magazine Description
E is an environmental magazine that strives to educate, inspire and empower Americans to make a difference for the environment. Published bimonthly, E is chockfull of everything the budding environmentalist needs to know, from "rainforests to recycling" to "personal to the political." Each edition contains thorough reporting on key environmental issues and trends, news, industry and consumer product updates, food and health issues, lifestyle tips, commentary from leading thinkers and doers, reviews of new books and films, and announcements of campaigns, events, and conferences.
For more infomation click onto Our Environment page.
I'd love to hear about you or your family's favorite recipes or holiday customs, what you're doing to help the environment, if you'd like pictures of your garden or pet featured here send them to my e-mail address, I can't promise to use all pictures sent, also please feel free to e-mail me with your stories or suggestions aradece@hotmail.com anything that is e-mailed to this website becomes my property and can be used without permission or renumeration.
PLEASE NOTE: IF YOU WANT TO SUPPORT THIS SITE BY VISITING AND BUYING FROM THE SPONSORS LISTED ON IT, IT IS IMPORTANT TO PLACE THIS SITE ON YOUR FAVORITES, SPONSORS ONLY PAY FOR VISITORS THAT LINK DIRECTLY FROM THIS SITE. THIS MEANS COMING HERE FIRST, BEFORE GOING TO A SPONSOR, EVEN ONE YOU HAVE PURCHASED FROM BEFORE. THANK YOU FOR HELPING.