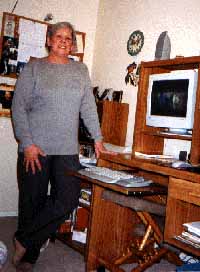 Patti is a new friend and member of the Nature's Way message board group, she lives in western Canada with her African parrot Kenya.

I met Patti through a poetry board, she writes the most beautiful poems. In fact, she has lent me the poem that is on the first page of Faith's garden, it feels like this poem for written to be there.

When you look at the poem, click on the link to Patti's site and you'll have the chance to read more lovely poems.
This is one really gifted lady, with a kind heart.