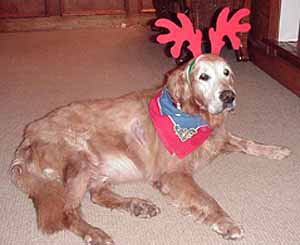 Hi everyone, from where I sit, here at the rainbow bridge, I can watch all my loved ones. Just can't give you any of those wet kisses.
Tell Lilly and Layla, it was a pleasure to let them think that they were bossing me around, truly love them.
Sorry you are not able to see me, like I can see you. Please don't feel sad, there are many beloved animal companions here to play with, as we wait for our owners to reclaim us. Once you get here, you'll realize life on earth is just a twinkling of an eye, compared to eternity. So folks, in another twinkling we will all be together again.
Oh, I did not really mind those red antlers.