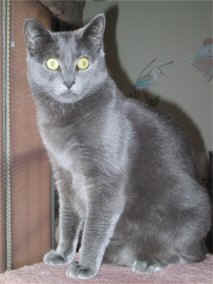 Sheldy was adopted from the no-kill cat shelter where Jackie is a member of the Board in Raleigh, North Carolina.
He was named in honor of "Sheldon the Shelter Cat", the character from Jackie's book, "Expecting A New Cat...". When we brought Sheldy home he was only 3lbs and he instantly bonded with Bandit. It was such a hoot to see this tiny little kitten and this huge cat cuddle up and play with each other.
Sheldy loves Chiquita too... every once in a while he sneaks in a few licks on her head before she runs away as fast as she can. Sheldy started out small, but is trying hard to catch up with Bandit. At 18 months, Sheldy currently weighs in at a very solid 15 pounds and jumps like no other cat we have ever seen.