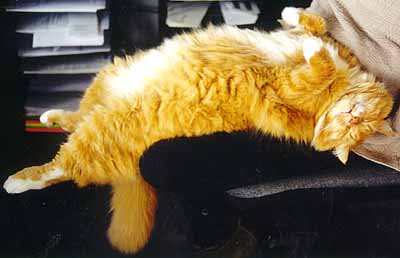 Here I am in one of my favorite positions, on mom's lap. She works away, the phone rings, the chair spins and I never wake up.
Bet that poodle Abigail can't do this! Actually she's o.k. for a dog, as long as I keep her under control.
Mom compares me to that famous cat Garfield, says I am all personality, and one of the most loveable and mellow cats she has ever known.
Whenever I get the chance to meet new people, I stick to them like clue. Still love being held and carried around.